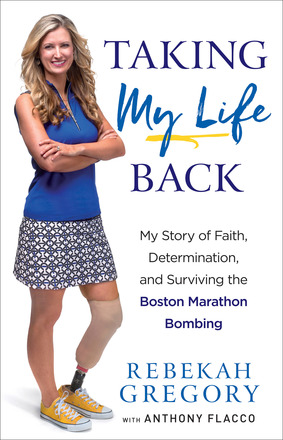 On April 15, 2013, Rebekah Gregory and her five-year-old son waited at the finish line of the Boston Marathon to support a friend who was running. When the blast of a homemade bomb packed with nails and screws went off three feet away, Rebekah's legs took the brunt of the explosion, protecting her son from certain death. Seventeen surgeries and sixty-five procedures later, she finally made the decision to have her left leg amputated.
(excerpt from back of book)
Gregory states early in her book that she sees herself as a survivor and her book bears testament to this statement. Although her book does spend a large portion of time exploring the events which took place at the 2013 Marathon and her following recovery, Gregory also spends much of the book guiding readers through the life events and challenges that helped shape her into the woman she is today. This ability to see Gregory through milestones from childhood to the present help bring her response to the 2013 tragedy and events following into a wider context and far more impactful story.
The stories themselves are compelling. Gregory paints her life with passion and is unapologetic in her testimony. There is a real sense of Gregory's heart within these pages as she speaks of those closest to her, particularly her little boy Noah. It is here, in Gregory's ability to convey emotion that the book shines brightest.
Structurally, the book felt somewhat disjointed at times creating an effect which was jarring in a way that was separate from the content. This combined with sections where Gregory was still obviously working through the accompanying negative emotions (for example internet trolls) left portions of the book feeling disconnected by presenting very different tones and voices.
Rebekah Gregory is a gifted speaker. For fans of human interest or biographies Gregory's story is well worth the time for its passion and human perspective on a widely known tragedy. That said, the story structure does lend itself more strongly,at times, to spoken rather than written word.
3.5 out of 5 stars
"Book has been provided courtesy of Baker Publishing Group and Graf-Martin Communications, Inc."