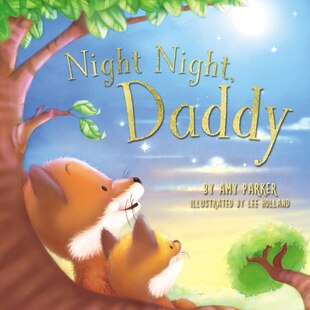 I love bedtime stories.
They've always seemed the perfect way to end a day, cuddling up with a good book and a warm blanket, letting the story wash over you.
I also like good stories, relatable kids stories because, lets face it, if you have a toddler you are going to be reading that book until both you and your toddler have it memorized and then a few more times for good measure.
When I saw Amy Parker's new release
Night Night Daddy
I was intrigued. I've noticed a trend in kids tv and books where the father figures aren't often as role model worthy as the moms. This is a problem because my little guys adore their daddy and I want to have books that highlight that relationship.
This is definitely that book.
Both our littles were fascinated from the first page until we said "night night daddy". The text is simple, rhythmic, and has activities that all kids will recognize. I loved how many of the pages illustrated things that are already special memories for my eldest and husband (although Mommy hopes they wait until she's not in the room if they attempt to recreate the making of pancakes).
The pictures were beautiful and have both an engaging and soft effect that seemed perfect for end of day reflections of an exciting day of activities.
I also love how natural the little fox is taught about life and fun by simply doing things with his dad, what a great message.
5 out of 5 stars from both my and my hubby plus a spinning frog from our eldest (high praise)
Disclosure of Material Connection: I received this book free from the publisher through the BookLook Bloggers <
http://booklookbloggers.com
> book review bloggers program. I was not required to write a positive review. The opinions I have expressed are my own. I am disclosing this in accordance with the Federal Trade Commission's 16 CFR, Part 255 <
http://www.access.gpo.gov/nara/cfr/waisidx_03/16cfr255_03.html
> : "Guides Concerning the Use of Endorsements and Testimonials in Advertising.