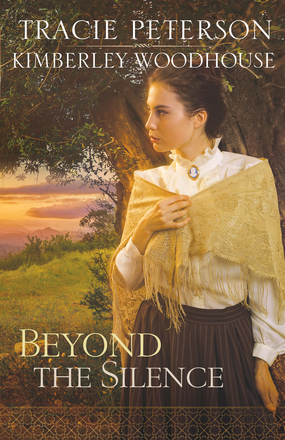 Lillian Porter has spent the years following her grandmother's death isolated save for Sunday visits, a bitter, isolated and grieving grandfather, along with his dedicated household staff. When the chance for Lillian to travel west - fulfilling her mother's dreams and gaining the opportunity to make a difference in the life of a young boy - she jumps at the chance.
However, instead of fulfilled dreams Lillian finds herself cut off from her family and from a town who holds no favour for Lillian's new boss.
Lillian's boss Woodward Colton's life hasn't been the same since his wife was murdered and his son stopped speaking. Between loss, rejection, and strife Colton clings to his faith when Ms. Porter whirls into his life. Could she be the change the family needs or will the Colton's simply add Ms. Porter to their steady stream of loss?
Unlike most of the books I read these days I've actually been acquainted with Tracie Peterson's work for some time and found this book to fit well with the style I've seen from her in the past. I did however, find
Beyond the Silence
unique in a few areas.
First was the setting. The book itself places readers into an overseeing role. In my opinion, this allowed the book to stay more neutral and leave the appeal open to more viewers. Had the readers followed solely from Lillian's perspective this novel would have felt more like a mystery, Jimmy's view would have made this book more "internal," Woodward's yet another perspective. Each of these would have been more intense but appeal to a smaller niche.
Going off the overarching view, Peterson and Woodhouse also provide a wide variety of characters for people to gravitate towards or rail against (I'm looking at you Sheriff).
Personally, the highlights of this book were the interactions with Harry.
His sweet protectiveness of his friends and genuine interactions with Jimmy allowed him to steal every scene he was in, regardless of who he was with.
Amazing character although I was sad he was technically only a supporting one.
Mrs. Goodman was also a favourite character and another secondary character (I think in many ways they out shone the main characters for me on this read)
She resonated as an in-story representation of the readers for myself. Mrs. Goodman saw the loss, the laughter, the good and the bad. She connected with the characters, I believe, the authors hoped readers would and served as a moral/emotional guide for the audience in many ways.
The story itself has a solid plot and will be highly enjoyable for fans of the genre.
I do wish this genre would give their ending more respect and allow things to unfold with a little more time (spoilers or I'd explain further, tell you what just let me know if you agree after you read it ;) )
4/5 stars
I received this book for free in exchange for my honest opinion through Nuts About Books. The opinions expressed are entirely my own