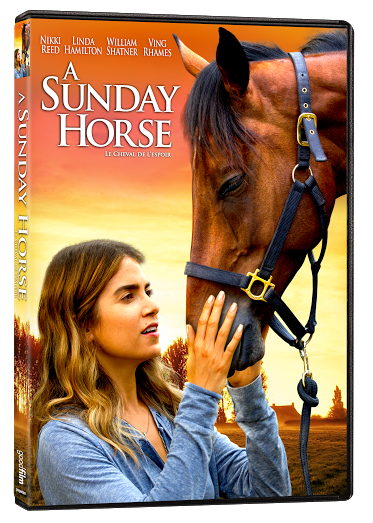 After a near-fatal accident on a horse the experts thought was nothing special, a determined rider from the wrong side of the tracks defies all the odds to pursue her dreams of winning a national jumping championship. Starring William Shatner, Nikki Reed, and Linda Hamilton.
The first 10 minutes of A Sunday Horse did not fill me with reassurance. Nikki Reed's acting felt forced, the language was rougher than I'd like for a family movie, and the chemistry wasn't there but that tug that seems to accompany so many young girls and the young of heart when it comes to horses and some absolutely gorgeous scenery encouraged me to persevere.
I had done a little research before watching and knew the movie was (very) loosely based on the story of Debi Walden Connor and the true influences also drew me in.
As the movie progressed the quality began to improve. While I cringed at Debi's talk with her pastor, Debi's encounter with The Evangelist was a turning point for the character and the movie. Reed's character became so much more real as she dropped the issues of her past and began finding herself and chasing her dream. I do love a good underdog (underhorse?) story and A Sunday Horse provides more than a few to chose from.
The story line itself lends itself to some wonderful family chats after watching as issues of class, race, and family estrangement are all encountered by Debi and those closest to her on the path to her championship competition. While the movie isn't able to explore the issues in full depth and resolution due to time (the father's resolution was most likely much longer in real life but Debi is the movie's focus) there is more than enough to thoughtfully address some big issues with elementary aged kids within the movie's world.
There is some language and the main character is seen smoking a joint at work in the early minutes of the movie but that does quickly change.
A Sunday Horse is a film filled with heart and a clear message sharing the value of perseverance when facing challenges and chasing your dreams.
4 out of 5 stars
Movie has been provided courtesy of Mongrel Canada and Graf-Martin Communications, Inc